Dressing Drinks 4th of July Party Tags
Hi everyone! It's Alli Roth here to show you how you can dress up your 4th Of July drinks this year in a few easy steps! If you're familiar with me over on Partyography, you know that dressing up drinks is one of my favorite party tricks. Not only does it make your drinks look cute, but it also serves as even more decorations to make your party all the more festive. Whether you've got big plans for the 4th of July or are keeping it low key, these party drinks are sure to be a hit!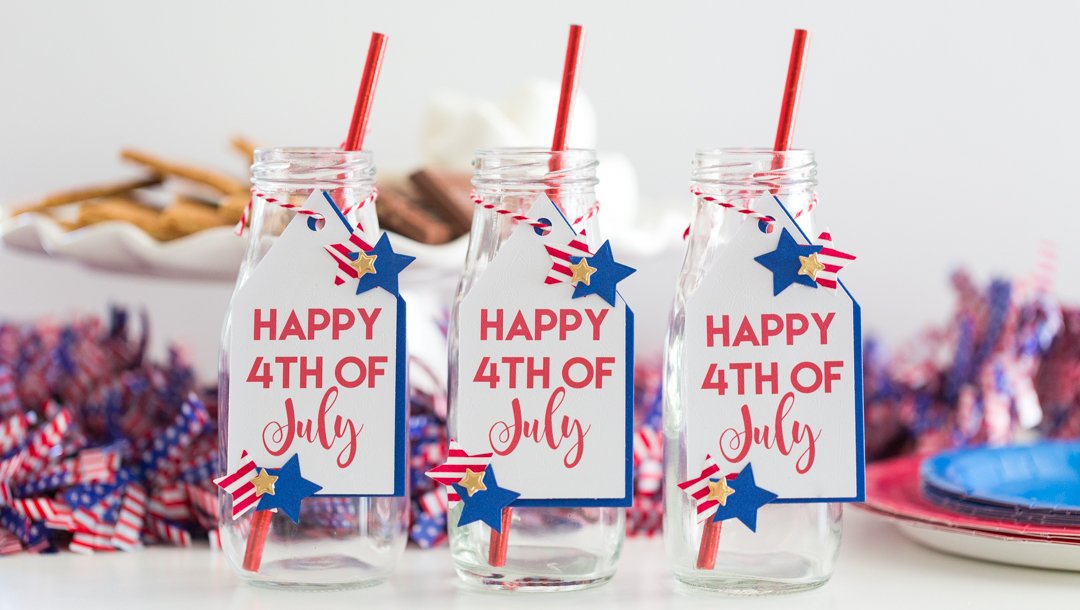 Instructions:
Start by printing out your free 4th of July printable (download here) on white cardstock.
Next cut S5-282 Shapeabilities Mini Tag Book with blue cardstock.
Next, line your printable up to cut with the S5-282 Shapeabilities Mini Tag Book as well.
Using the big and little stars from S4-784 Shapeabilities Rise 'n Shine Etched Dies, cut various stars. I used four big stars and two little stars on each tag.
Using square adhesives, attach the printable to the blue tag. I like using the square adhesives to give it some extra dimension. I also offset the tags so you can see the blue peeking through.
Once you have the tags attached, you can glue the stars in place. I used a tiny square adhesive to make the gold stars pop. And finally, using the twine, attach the tag to the bottle and add your straws!
Although I used these tags to dress up the drinks, they'd also be perfect for party favors! For more ideas and inspiration, visit: Partyography By Alli.
Spellbinders® Supplies:
Other Supplies:
Cardstock (blue, red/white striped, white)
Happy 4th of July free printable (download here)
Glue
Red & white twine
Square adhesives
Milk bottles
Straws
Whether you want to make your child's birthday an extravaganza or prefer a more intimate get together with family, whether you're planning for a holiday or throwing a party just because, I'm here to help provide party styling ideas and step-by-step DIY videos to help you celebrate and hold onto these moments a little while longer.
Latest posts by Alli Roth (see all)